SPOT Insight sCMOS Cameras
The Insight sCMOS Camera with the Sony Pregius™ sCMOS sensor is a leap forward in digital imaging technology. This new generation of affordable Insight sCMOS cameras delivers features previously found in much higher-priced cameras.
The SPOT Insight sCMOS camera's USB 3.0 interface and Sony Pregius global shutter work with our best-ever auto-exposure scheme in SPOT software to produce distortion-free, live image viewing of moving specimens at a fast, fluid 22 fps, at full resolution. The Insight sCMOS Camera combines low read-noise and high QE, furnishing sensitivity not previously seen in uncooled cameras.
Many applications are supported due to the wide range of capabilities of the Insight sCMOS cameras, including live-cell, brightfield, histology, pathology, cytology and bright fluorescence imaging.
Available in 5.1MP and 12.3MP
Low read noise maintains the camera's sensitivity at high speed
USB3 interface for universal connectivity to laptop and desktop computers
Global shutter produces distortion-free live viewing of moving specimens
Compact design allows it to fit into tight lab spaces
Vivid, accurate colors enhanced by SPOT software's Correct Color Technology
Windows and Mac OS compatible
Included SPOT Basic Software provides live preview, reporting, annotations, reticles and calibration marks in live and captured images, time lapse and other microscope imaging tools
ICC Color Profiling
Pathologists currently make diagnoses on images they see through the microscope. When pathologists share images (for example at tumor boards) they desire to show what they saw under the microscope. (i.e. "what you see in the microscope is what you show on the display")
Raw captured images are limited by the physics of camera design resulting in errors reproducing what the eye sees. This is because the color curves of the camera do not match the eye.
Correcting these curves can be done by a proprietary process, but the best methods have been developed by the International Color Consortium (ICC) which provides an international standard. This method allows manufacturers of cameras to produce a correction file that converts the raw color data from the camera to a color corrected output image.
The quality of the results is dependent on what you optimize. SPOT optimizes the ICC color correction files specifically for microscopy slides and the stains used to produce them. This takes extra effort, but we think you're worth it. That's why SPOT's colors look so good.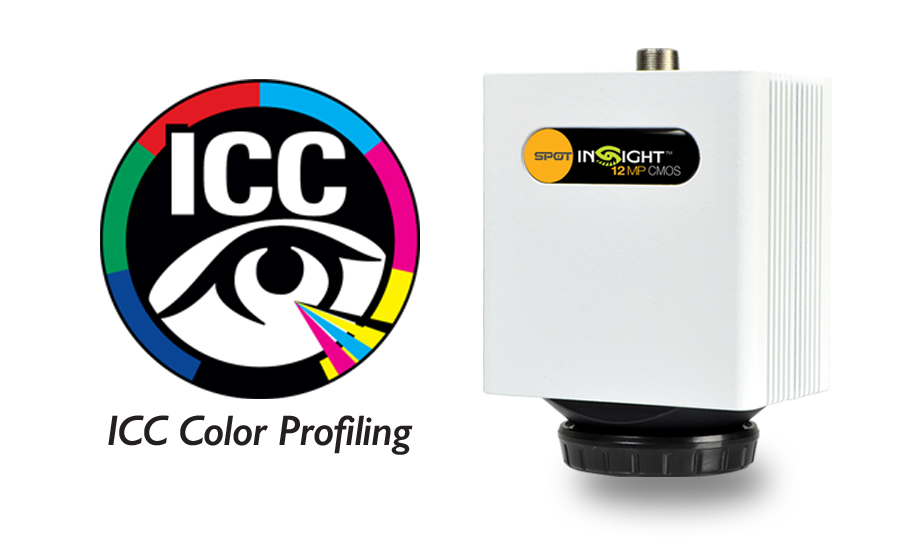 See the difference that ICC Color Profiling Makes!
See the difference that ICC Color Profiling Makes!
ICC (International Color Consortium) is the world standard for color management.
SPOT Imaging has optimized the Insight Camera's ICC profiles for microscopy stains.
With SPOT ICC color profiles you get the best color possible from your microscopy imaging.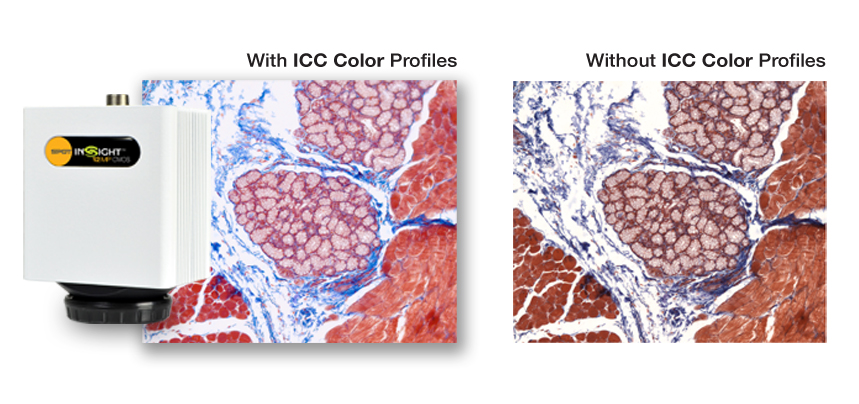 Make a Lasting Impression with Outstanding Images!
Super fast USB3!
USB 3.0 adds the new transfer rate referred to as SuperSpeed USB (SS) that can transfer data at up to 5 Gbit/s (625 MB/s), which is about ten times as fast as the USB 2.0 standard.
Now your lab can get your microscopy images Ten Times faster than USB 2.0!
With the USB 3.0 Interface, you'll also get universal connectivity to laptop and desktop computers!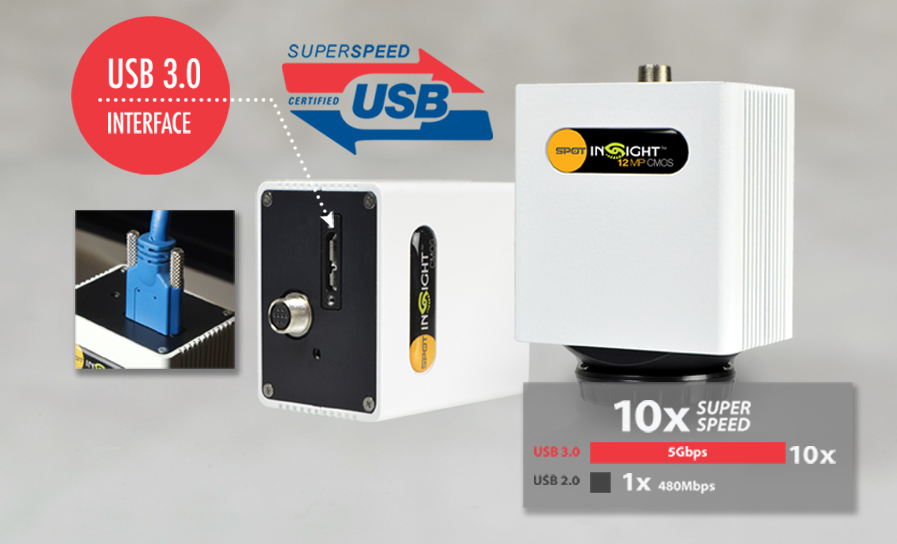 5MP versus 12MP
The new 12.3MP Insight camera has increased Microscopy Optimized Color Correction and Brightness with a high speed preview at 30fps, making magnified views of high power cell examination smoother and easier to read.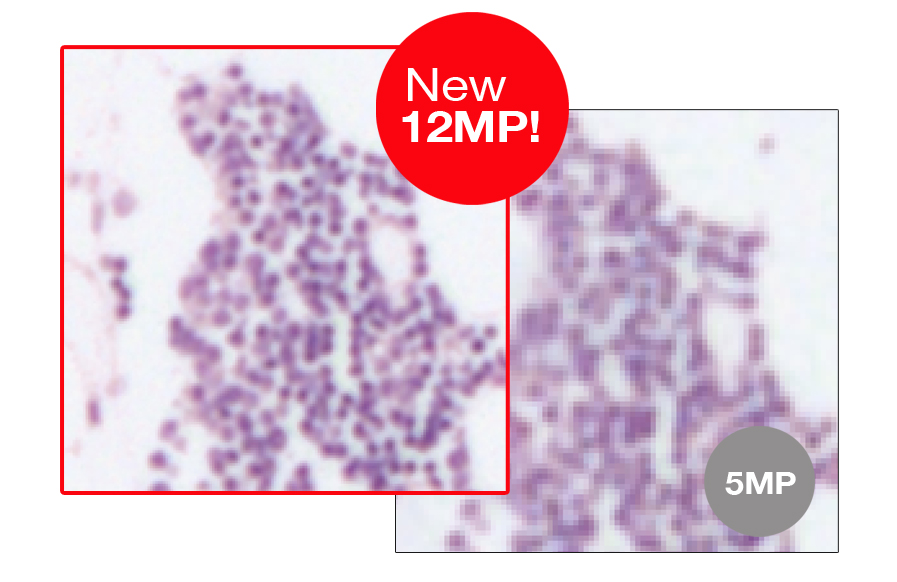 Featured Specifications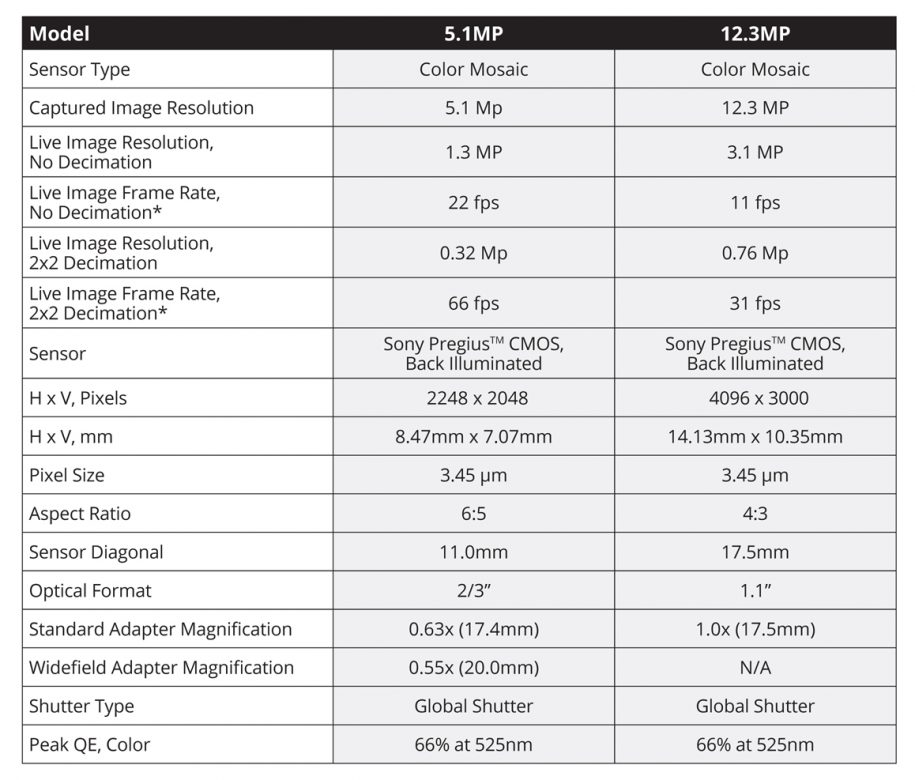 *Typical frame rate on a brightfield microscope with a computer using an Intel Core i5 CPU with 4 physical cores. CPUs with only 2 physical cores will be slower. SPOT Correct Color Technology was ON for this test.
Video Overview