Digital SLR Camera to Microscope Adapters
These research-grade adapters provide superior image quality, low price, and excellent camera stability for mounting digital SLR and other large format sensor cameras to microscopes. A wide variety of cameras are accommodated using the industry standard camera T-mount adapter, while the bottom of the adapter ensures a solid fit to your microscope's photoport. Please check our online Adapter Matching Guide to obtain the catalog numbers for the adapter and T-mount that will work with your particular camera and microscope model. Visit the SPOT Market Webstore with your catalog numbers to make a purchase.
Wide Field of View
The 1.2x digital SLR adapter provides a wide field of view for cameras with large format sensors up to 25 mm in diagonal. The 1.2x adapter is ideal for the 4/3″ format of the Olympus E series digital SLR cameras. The 2.0x version supports sensors up to 41 mm in diagonal and is ideal for the APS-C and APS-H sensors used in the Canon EOS Rebel, 50D, 60D, 7D, 1D Mark III, Fujifilm Pro, some Sony Alpha cameras, and the Samsung cameras. The 2.0x version is also recommended for the DX sensor in the Nikon DX SLRs, and the Foveon X3 sensor in the Sigma cameras. The full frame APS-F sensor size is supported with the 2.5x version. The full frame sensor is used in the Nikon FX, Canon EOS 5D Mark II, and Canon 1Ds Mark III.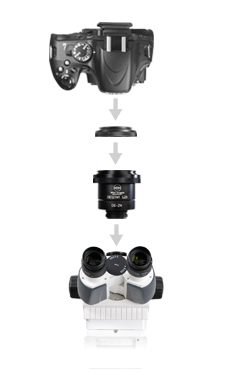 Add Magnification to a System
The digital SLR adapters can also be used to provide higher magnification for cameras with 1/2″, 2/3″, or 1″ format sensors. The digital SLR adapters add magnification from 1.8x to 8.0x depending on the sensor and adapter used.
Compatible with a Broad Range of Camera Lens Mounts
Virtually any camera can be mated to these adapters through an industry-standard "T-Mount" thread adapter. T-mounts are available for Canon EOS, Sony-Minolta, Four Thirds Olympus Mount, C-Mount, Sigma SA/SD Mounts, Nikon F-Mount and Samsung-Pentax K Bayonet Mount lens mounts, among others.
Low Profile, High Quality and Great Stability
These adapters take advantage of the removable phototube of modern microscopes to position the camera close to the microscope body, reducing vibration. Computerized lens design optimizations, years of adapter design experience, and precise manufacturing ensure crisp high contrast images.
DSLR Adapters
| Catalog Number | Description | Purchase | Quotation | Price |
| --- | --- | --- | --- | --- |
| DE12BXT | 1.2x Digital SLR Camera Adapter for Olympus BX, AX Provis, MX, CX, IX2, CKX, IX trinocular head, IX51, IX71, IX81, GX51/71, SZX9, and SZX12 | Buy Online | Request a Quote | See Webstore |
| DE12NYT | 1.2x Digital SLR Camera Adapter for Nikon standard upright trinoc photoport | Buy Online | Request a Quote | See Webstore |
| DE12TET | 1.2x Digital SLR Camera Adapter for Nikon TE inverted microscope sideport | Buy Online | Request a Quote | See Webstore |
| DE12TIT | 1.2x Digital SLR Camera Adapter for Nikon TI inverted side photoport | Buy Online | Request a Quote | See Webstore |
| DE12TAT | 1.2x Digital SLR Camera Adapter for Nikon Ni-U Digital Head photoport | Buy Online | Request a Quote | See Webstore |
| DE12IXT | 1.2x Digital SLR Camera Adapter for Olympus IX 70 series sideport and IX 80 series sideport | Buy Online | Request a Quote | See Webstore |
| DE12MVT | 1.2x Digital SLR Camera Adapter for Olympus MVX series | Buy Online | Request a Quote | See Webstore |
| DE12HCT | 1.2x Digital SLR Camera Adapter for Leica microscopes with HC optics and dovetail-style photoport | Buy Online | Request a Quote | See Webstore |
| DE12LZT | 1.2x Digital SLR Camera Adapter for Leica M series stereo trinocular head | Buy Online | Request a Quote | See Webstore |
| DE12NVT | 1.2x Digital SLR Camera Adapter for Nikon standard photoport | Buy Online | Request a Quote | See Webstore |
| DE12ZNT | 1.2x Digital SLR Camera Adapter for Zeiss microscopes with slip-in style photoport including Zeiss Axioskop-2, Axioplan-2, Axiophot-2, SV6, SV8, SV11, Stemi 2000-C, Axiovert models 100, 135, 135M,and 200 | Buy Online | Request a Quote | See Webstore |
| DE12ZPT | 1.2x Digital SLR Camera Adapter for Zeiss Primovert and Primostar | Buy Online | Request a Quote | See Webstore |
| DE20TIT | 2.0x Digital SLR Camera Adapter for Nikon inverted side photoport | Buy Online | Request a Quote | See Webstore |
| DE20TAT | 2.0x Digital SLR Camera Adapter for Nikon NI-U Digital Head photoport | Buy Online | Request a Quote | See Webstore |
| DE20NYT | 2.0x Digital SLR Camera Adapter for Nikon standard upright trinoc photoport | Buy Online | Request a Quote | See Webstore |
| DE20BXT | 2.0x Digital SLR Camera Adapter for Olympus BX, AX Provis, MX, CX, IX2, CKX, IX trinocular head, IX51, IX71, IX81, GX51/71, SZX9, and SZX12 | Buy Online | Request a Quote | See Webstore |
| DE20IXT | 2.0x Digital SLR Camera Adapter for Olympus IX 70 and IX 80 sideport | Buy Online | Request a Quote | See Webstore |
| DE20MVT | 2.0x Digital SLR Camera Adapter for Olympus MVX series | Buy Online | Request a Quote | See Webstore |
| DE20HCT | 2.0x Digital SLR Camera Adapter for Leica microscopes with HC optics and dovetail-style photoport | Buy Online | Request a Quote | See Webstore |
| DE20LZT | 2.0x Digital SLR Camera Adapter for Leica MZ series 10 445 924 trinocular head | Buy Online | Request a Quote | See Webstore |
| DE20NVT | 2.0x Digital SLR Camera Adapter for Nikon standard stereo photoport | Buy Online | Request a Quote | See Webstore |
| DE20ZNT | 2.0x Digital SLR Camera Adapter for Zeiss microscopes with slip-in style photoport including Zeiss Axioskop-2, Axioplan-2, Axiophot-2, SV6, SV8, SV11, Stemi 2000-C, Axiovert models 100, 135, 135M, and 200 | Buy Online | Request a Quote | See Webstore |
| DE20ZPT | 2.0x Digital SLR Camera Adapter for Zeiss Primostar and Primovert | Contact Tech Help | Request a Quote | See Webstore |
| DE25TIT | 2.5x Digital SLR Camera Adapter for Nikon inverted side photoport | Buy Online | Request a Quote | See Webstore |
| DE25TET | 2.5x Digital SLR Camera Adapter for Nikon TE inverted photoport | Buy Online | Request a Quote | See Webstore |
| DE25TAT | 2.5x Digital SLR Camera Adapter for Nikon NI-U Digital Head photoport | Buy Online | Request a Quote | See Webstore |
| DE25NYT | 2.5x Digital SLR Camera Adapter for Nikon standard upright trinoc photoport | Buy Online | Request a Quote | See Webstore |
| DE25BXT | 2.5x Digital SLR Camera Adapter for Olympus BX, AX Provis, MX, CX, IX2, CKX, IX trinocular head, IX51, IX71, IX81, GX51/71, SZX9, and SZX12 | Buy Online | Request a Quote | See Webstore |
| DE25IXT | 2.5x Digital SLR Camera Adapter for Olympus IX 70 and IX 80 sideport | Buy Online | Request a Quote | See Webstore |
| DE25MVT | 2.5x Digital SLR Camera Adapter for Olympus MVX series | Buy Online | Request a Quote | See Webstore |
| DE25HCT | 2.5x Digital SLR Camera Adapter for Leica microscopes with HC optics and dovetail-style photoport | Buy Online | Request a Quote | See Webstore |
| DE25LZT | 2.5x Digital SLR Camera Adapter for Leica MZ series 10 445 924 trinocular head | Buy Online | Request a Quote | See Webstore |
| DE25NVT | 2.5x Digital SLR Camera Adapter for Nikon standard stereo photoport | Buy Online | Request a Quote | See Webstore |
| DE25ZNT | 2.5x Digital SLR Camera Adapter for Zeiss microscopes with slip-in style photoport including Zeiss Axioskop-2, Axioplan-2, Axiophot-2, SV6, SV8, SV11, Stemi 2000-C, Axiovert models 100, 135, 135M, and 200 | Buy Online | Request a Quote | See Webstore |
| DE25ZPT | 2.5x Digital SLR Camera Adapter for Zeiss Primostar and Primovert | Buy Online | Request a Quote | See Webstore |
| NEXC-T2 | T-Mount Adapter Ring for Sony E-Mount/NEX Series Cameras | Buy Online | Request a Quote | See Webstore |
| EOSC-T2 | T-Mount Adapter Ring for Canon EOS Digital SLR Cameras | Buy Online | Request a Quote | See Webstore |
| MAXC-T2 | T-Mount Adapter Ring for Sony-Minolta Digital SLR Cameras | Buy Online | Request a Quote | See Webstore |
| NIKC-T2 | T-Mount Adapter Ring for Nikon Digital SLR Cameras | Buy Online | Request a Quote | See Webstore |
| MIC43-T2 | T-Mount Adapter Ring for Micro 4/3 Mount Cameras | Buy Online | Request a Quote | See Webstore |
| OLYC-T2-2 | T-Mount Adapter Ring for Olympus 4/3″ Mount Digital SLR Cameras | Buy Online | Request a Quote | See Webstore |
| CMTC-T2 | T-Mount Adapter Ring for C-Mount Cameras | Buy Online | Request a Quote | See Webstore |
Information