SMS15/16 Routine Boom Stands
The SMS15 and SMS16 stereo microscope boom stands are suited for routine inspection of large samples where continuous horizontal movement of the stereo-microscope is not required.
Tried and true design, premium materials and precision machining have made SMS15 and SMS16 boom stands the gold standard for high quality, durability and economy. The precision ground shafts slide on nylon bearing surfaces and are clamped securely in the solid aluminum cross slider by soft-grip knobs. The stereo microscope mounting is via the industry standard 5/8" bonder socket. Non-bonder style stereo microscope focus mounts and cameras are easily accommodated via SPOT Imaging' tilting and non-tilting adapters. The SMS15 comes with a table clamp, and the SMS16 comes with your choice of a table mount or weighted base.
Features
Large precision ground 38mm (1.47") shafting
Anti-corrosion surfaces of stainless steel, anodized aluminum, plated steel and catalyzed epoxy solid aluminum cross slider block with nylon bearing surfaces
Value-priced
15.75" or 24" tall vertical pole standard, custom lengths available
20.5" long horizontal pole standard, custom lengths available
5/8" diameter bonder mount socket for standard stereo microscope focus mounts
Adapters available for current and legacy non-bonder stereo microscope focus mounts and cameras with 1/4-20" threaded mounts
Variety of base options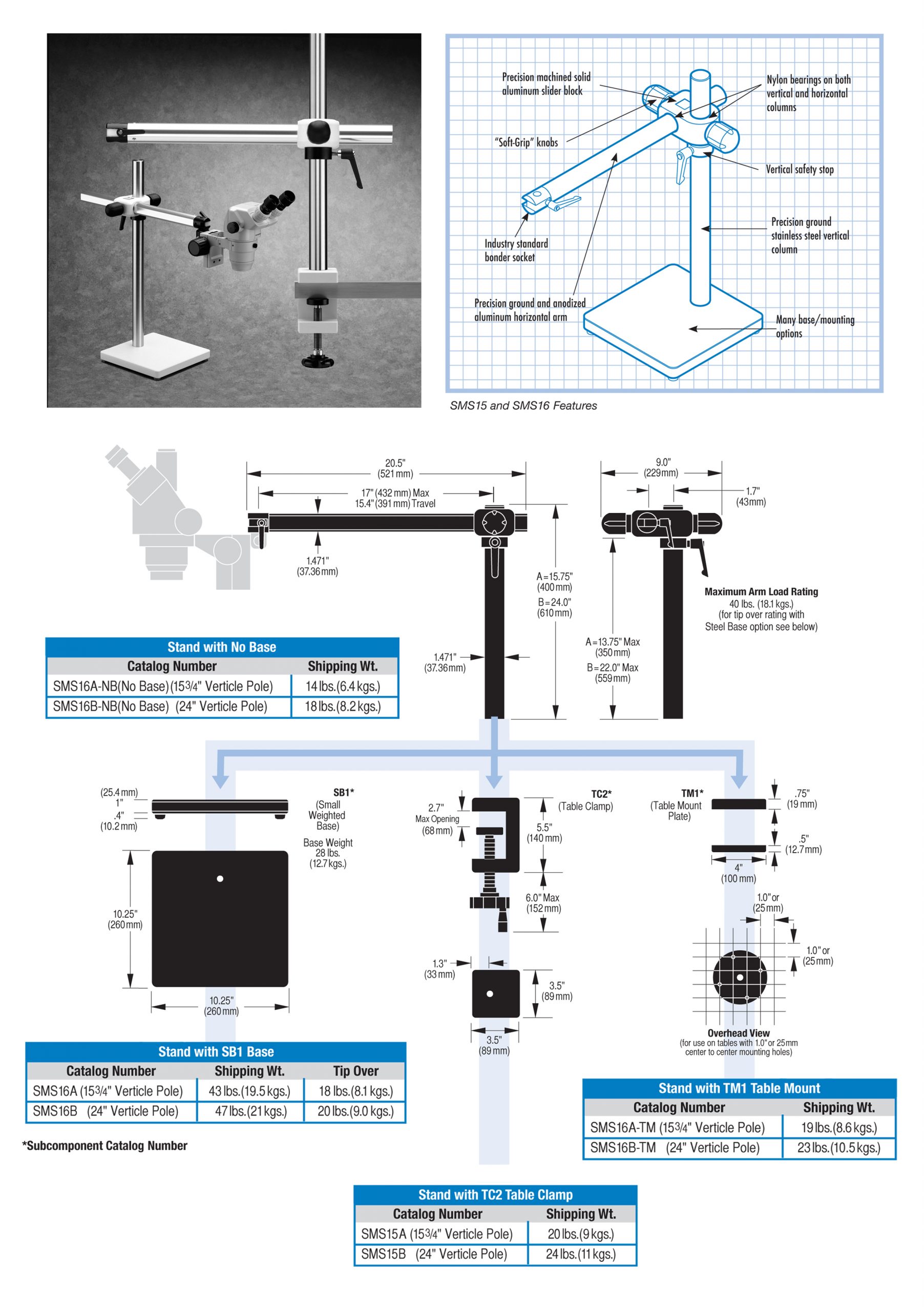 SMS15 and SMS16 Boom Stand Models
*Note: The horizontal arm on the SMS15 and SMS16 terminates in a 5/8" bonder socket mount. If you want to mount a stereo microscope without a bonder dowel or a camera to the SMS15 or SMS16, you will also need a tilting or non-tilting adapter.