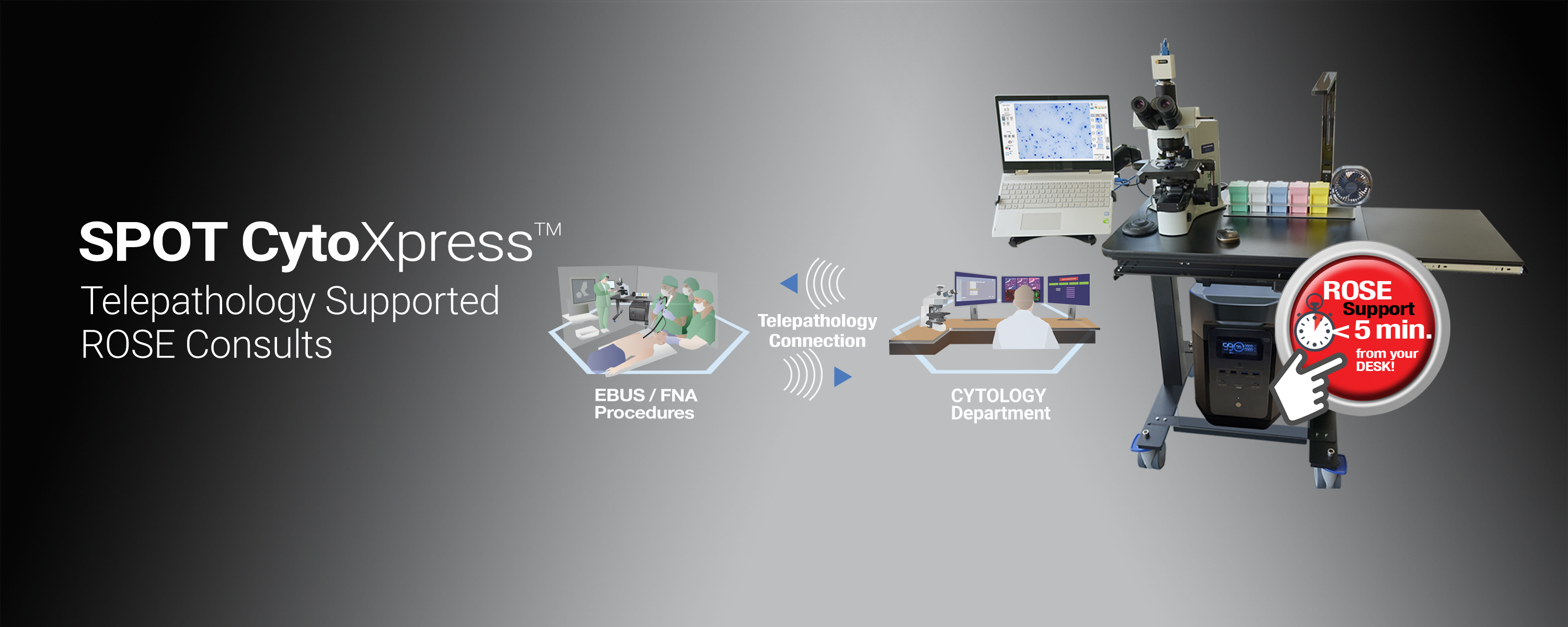 CytoXpress™  |  Virtual ROSE Consults
CytoXpress™ enables cytopathologist to meet the growing FNA/EBUS ROSE consult demand via telepathology links in <5 minutes restoring the reimbursement rate while eliminating long work hours. Procedure doctors and hospitals are now fully supported and can work at their full capacity.
Growing ROSE Demand and Low Reimbursement
The College of American Pathologists (CAP) Committee on Cytopathology concluded that there are serious issues with the reimbursement structure for FNA / EBUS / EUS ROSE if performed in a conventional manner.1 The CMS CPT codes overlook the ROSE services provided by cytotechnologists for FNA, EBUS and EUS scanning diagnostic procedures resulting in a reimbursement rate of $0/hour.
The code greatly underfunds the cytopathology laboratory for on-site and in-person diagnostic procedures, resulting in a rate of $42/hour, which compares poorly with a cytopathologist's normal sign-out rate of $556/hour.1 Providing ROSE services on-site and in-person forces cytopathologists to work overtime to maintain their daily pathology sign-out workload. Faced with the additional workload and low reimbursement rates, many cytology laboratories have eliminated ROSE consult support, while other cytology laboratories leave the ROSE to cytotechnologists, who may not have the training and experience to ensure diagnostic accuracy.
In either case, the diagnostic needs of the patient are not fully met, and the mission of the specialty physicians and the hospital are not fulfilled and their revenue limited. The CAP committee's study on cytopathology concluded that the only viable method to support the patient, and maintain the cytopathology laboratory was to provide ROSE support via a remote telepathology connection.
CytoXpress | One-Click Telepathology Consults
SPOT Imaging's CytoXpress is a telepathology imaging system that allows a cytopathologist to perform sign-out until the moment they are needed for ROSE consults. The cytopathologist then connects via the secure teleconferencing interface to evaluate the diagnostic slide and provide their consultation. Upon completion the cytopathologists easily return to their sign-out work. Eliminated is the unnecessary travel and wait times related to diagnostic sample retrieval. CytoXpress maintains sign-out productivity for the cytopathology laboratory while capturing the ROSE CPT reimbursement via telepathology consult.
CytoXpress Delivers:
CytoXpress Delivers:
ROSE consults in less than 5 minutes
Minimized disruption of the cytopathologist's sign-out workflow
Pathology lab revenue of $816/hr. or $207,000/yr2
Lab ROI < 4 months typical
Hospital ROI < 1 month typical
Greater specialty physician and patient satisfaction3
CAP Cytopathology Committee study of ROSE Support
Based on $68/ evaluation, 5 minutes per telepathology ROSE, 2000 FNA/year, 1000 EBUS/year
www.usnews.com/info/blogs/press-room/articles/2016-08-02/us-news-announces-the-2016-17-best-hospitals 

Specified By Cytotechnologist for Cytotechnologists
Practical Telepathology Supported ROSE
In consultation with cytotechnologists, CytoXpress is purpose-built to easily navigate through the hospital while providing ample on-site workspace and operating comfort.
Key Features:
The CytoXpress cart's compact 30" x 24" size and 3 mode configurable casters ensure easy navigation through the hospital and easy setup in the screening procedure suite. To ensure the equipment arrives safely the microscope and laptop are securely fastened to the cart eliminating microscope and computer mishaps.
Once on site, the adjustable computer arm supports the laptop, freeing up valuable workspace, while the pull-out shelf and LED task light provide a convenient space for paperwork leaving the main table space open for imaging slide preparation.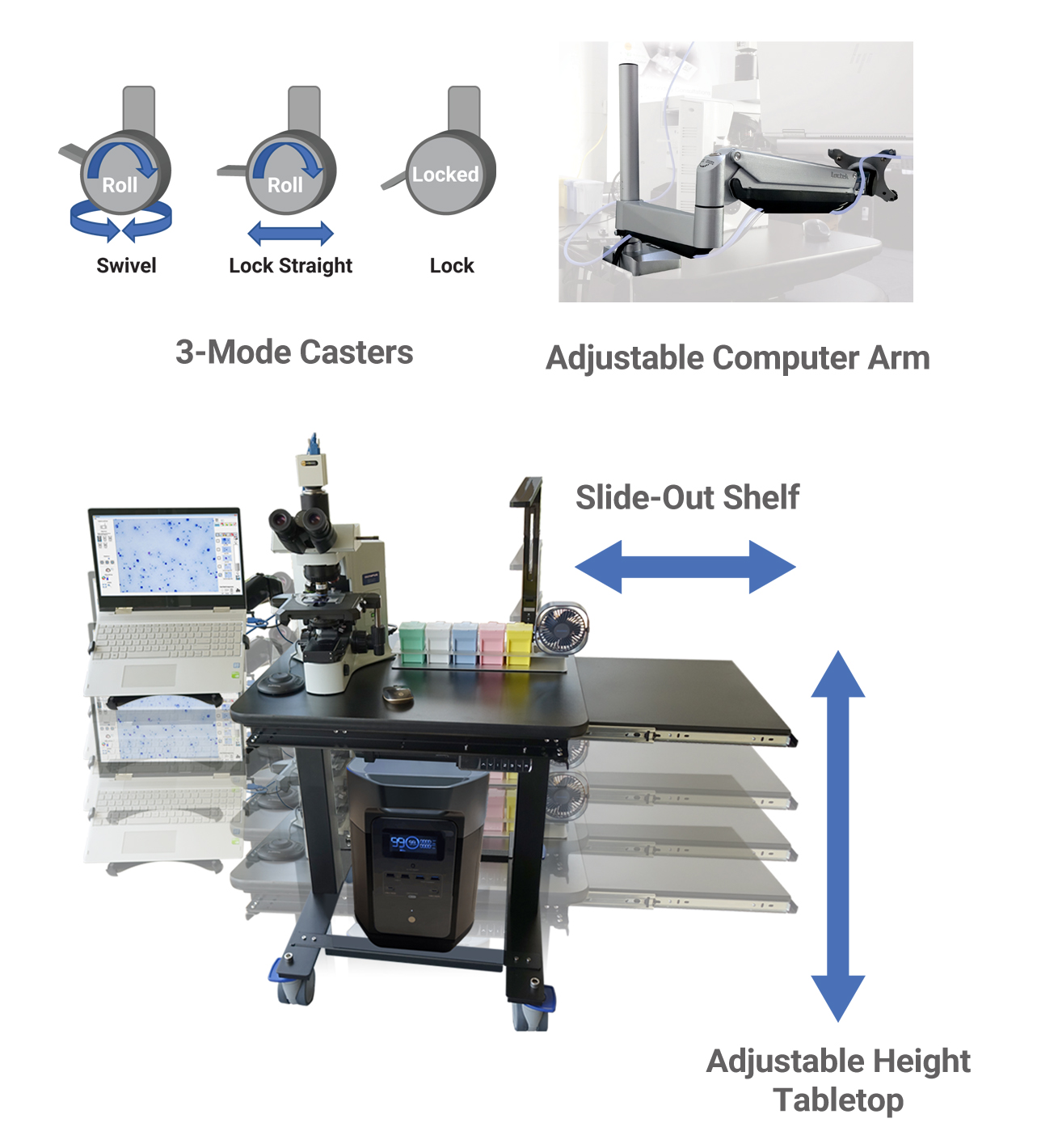 Easy, comfortable operation were in mind when SPOT Imaging designed the motorized height adjustable tabletop allowing the microscope to be positioned for comfortable diagnostic slide review and the articulated computer arm to place the laptop in the most convenient position.
The CytoXpress cart minimizes setup and ensures quick diagnostic slide review, by providing battery operation and wireless network connections that eliminate cable connection and computer startup delays. Next, SPOT Imaging used the tried-and-true digital microscope to provide simple effective slide scanning and final screening image presentation. The diagnostic images are captured and relayed via SPOT Imaging's latest Insight High Speed Microscope camera series that provide stunning color corrected 4K UHD live video streams. When the cytopathologist is ready to initiate a telepathology session, they simple select the doctor's name and click invite. The doctor is prompted on their computer to accept, starting the session in 5-10 seconds. PathCast provides the consulting doctor with undistorted, high resolution, real time 4K UHD video, FM quality echo suppressed audio as well as remote cursor and keyboard control.
Consultations are typically completed within five minutes and the cytopathologist is back to sign-out work with the CPT reimbursement captured. Cytopathologists can now support the increasing ROSE workload requested by specialty doctors without jeopardizing their personal time or their cytology practice income.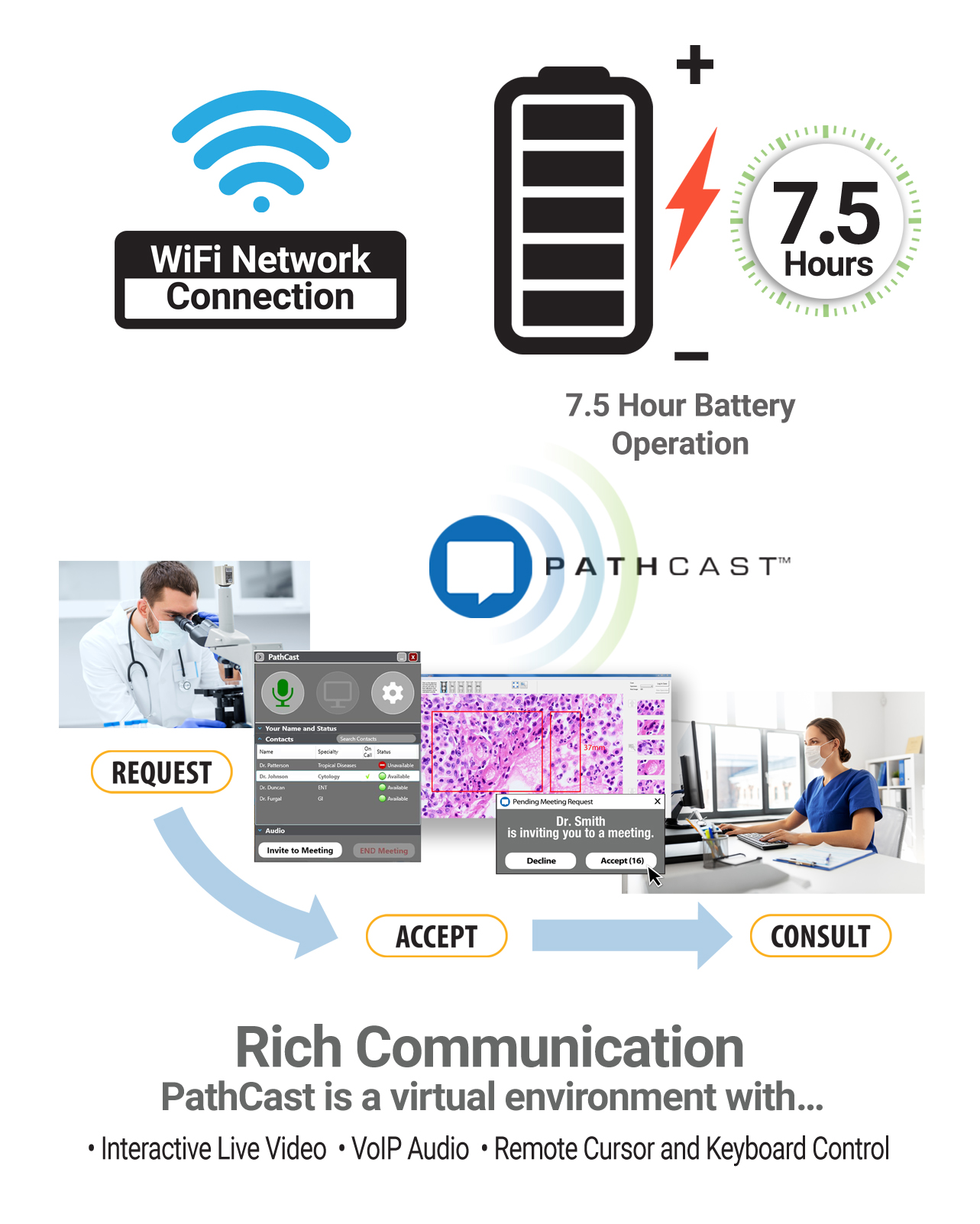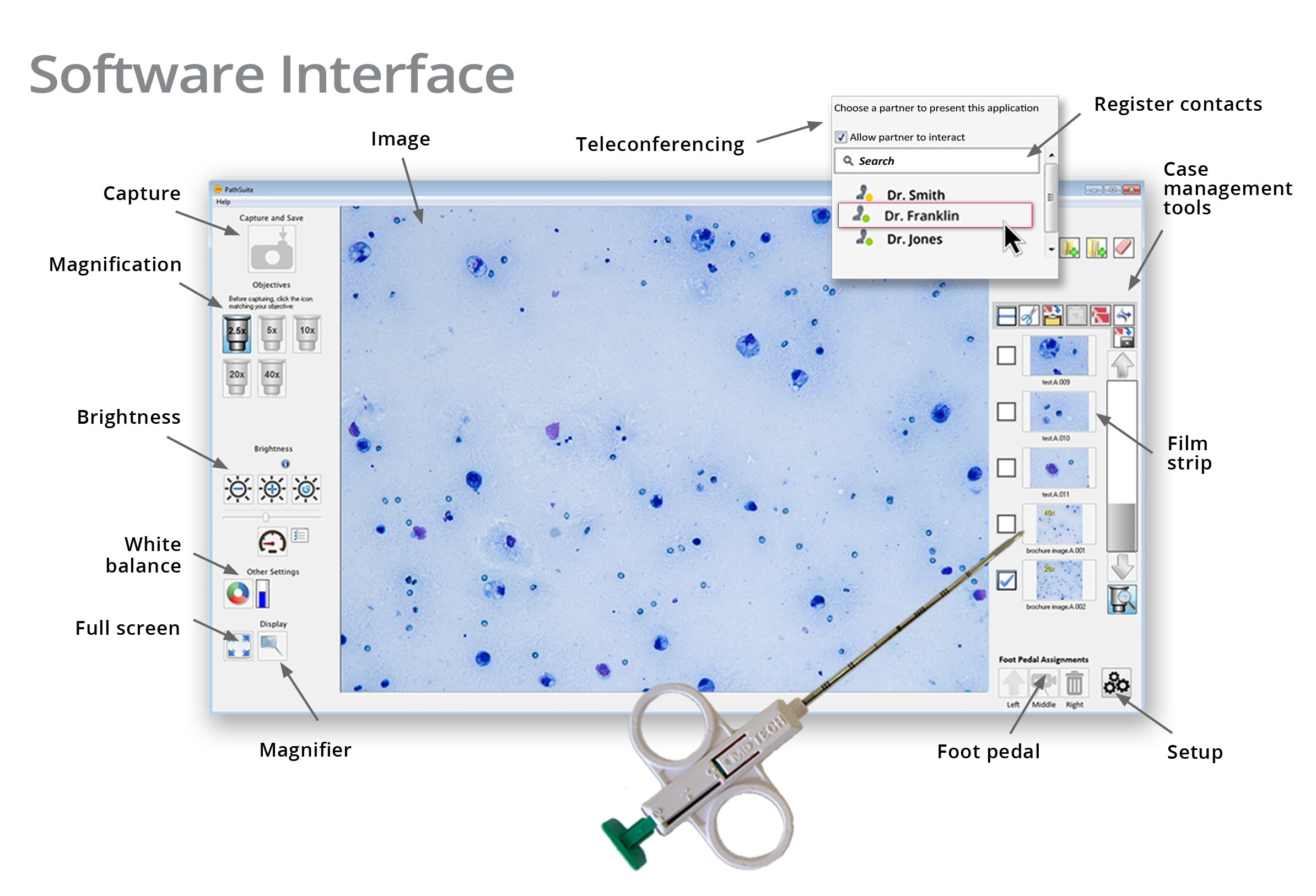 CytoXpress provides the functionality needed to get the consult done without the cost, complexity and delay of entry level Whole Slide Image solutions. It is easy to learn, simple use and provides a streamlined workflow for Rapid-On-Site-Evaluation of FNA & EUS samples.
Software Key Features:
• Easy to learn, easy to use, graphical user interface
• Single click connection to colleagues in your contacts list
• HIPPA compliant
• Live audio stream (bi-directional VoIP) w/ noise cancelling speaker
• Live video stream 15-30 fps
• Auto brightness with manual brightness offset
• Region of interest magnifier for viewing cellular detail
• Interactive cursor, annotation and measurement tools
• Image capture and auto-archive to case folder
Integration - Maintenance