PathScope Microscope Imaging System
Streamline your imaging process with the PathScope™ microscope imaging system. With the PathScope system, you can capture, accession, and share high quality images while maintaining your workflow.
Barcode scanning enables auto-accessioning of the case data. For instance, while examining slides, simply click the HistoSnap button to capture images without looking up from your eyepieces. After that, the microscope objective tracker saves the magnification used so you can add accurate measurements later on.
Our intuitive PathSuite software interface was designed for pathology. Icons are focused on the most common pathology tasks, so you don't have to search through menus to find controls for your use. Meanwhile, the image files are automatically saved to your file server or LIS.
Sharing images securely with remote colleagues is as easy as selecting their name from the software – therefore, no complicated technical skills are required. Integrated audio and annotation tools make it simple to collaborate and consult with off-site specialists, PAs, and residents.
When using the PathScope™ microscope imaging system, you'll save time and most importantly get more done.
Save Time With the PathScope
In our studies we found that using the PathScope for routine microscope imaging in fact saved an average of two minutes per slide.

All in One Telepathology Imaging Workstation
PathScope is a complete imaging system designed specifically for pathology productivity.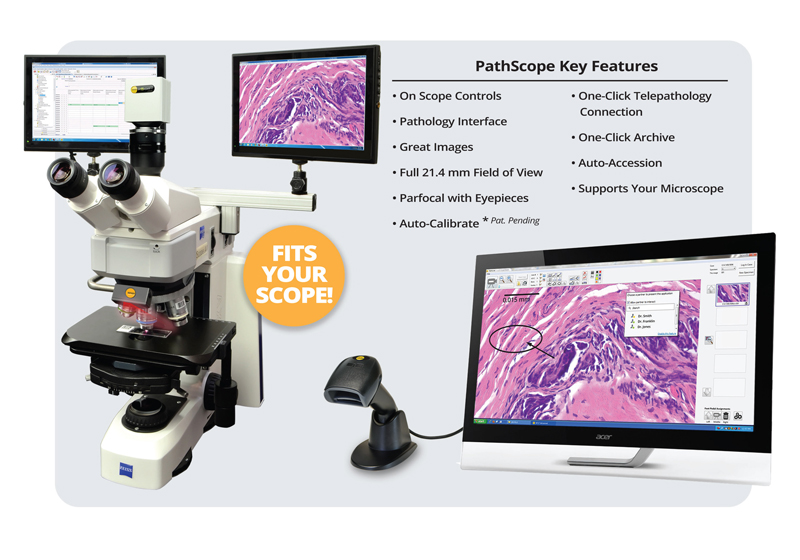 Automation Adds Productivity and Reduces Errors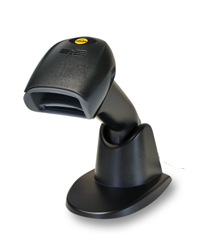 Auto Case Accessioning
Scan in case information so that images are correctly associated with the case.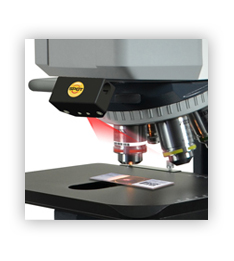 Automatic Magnification Tracking
Each objective magnification is saved with the image, so that scale bars and measurements added afterwards are completely accurate.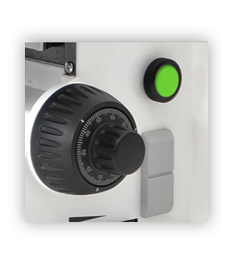 One-Click Image Capture
Capture images without looking up from your microscope eyepieces using our Histosnap button, which can be easily mounted right on your microscope.
Pathology Focused Software
With its simple icon-driven interface focused on common pathology imaging tasks, the PathSuite software is a snap to learn and use. For example, the filmstrip displays images from the case. Annotations, scale bars, and measurements add to the illustration, as well as, saving them to your LIS or file server.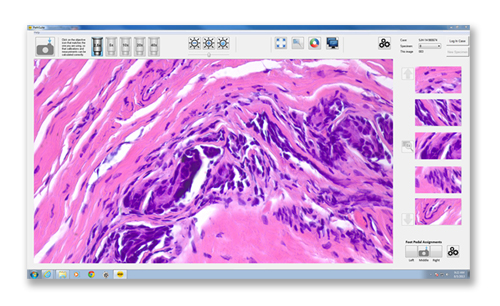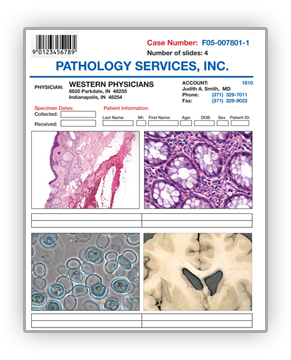 Professional Documentation
Professional documentation is the foundation of quality assurance and process
improvement as well as the basis on how you are perceived by your patients, referring
physicians and legal establishment.
Consult Right From Your Desk
SPOT PathScope makes it easy to share images with remote colleagues for consults or education. For example, with its annotation, file sharing, and remote computer control, off-site isolated specialists can work together as if they were in the same room. Equally important is the reduced travel time for highly paid hospital specialists therefore making it a smart decision for hospital administrations.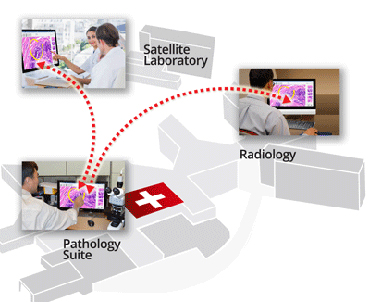 PathScope
Save Time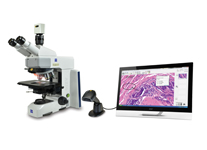 More Information
SPOT Imaging Specialists are ready to answer your questions

Brochure
Download more details about PathScope
Product Information