SMS20 Heavy Duty Boom Stands
This boom stand series is designed for support of large research grade stereo microscopes while providing them with fluid motion in a horizontal plane.
The horizontal arm is mounted on linear ball bearing units in the solid aluminum cross slider. Locking the arm in position is quickly accomplished with secure soft-grip knobs. The stereo microscope is mounted via the SPOT™ heavy duty tilt and swivel mount that allows smooth movement and rigid locking. Various base mounting options are: a weighted base, a rugged table clamp and a 1/4"-20 grid table mount system that can be used on standard tables.
Features
Heavy duty linear ball bearing mounted horizontal arm provides smooth motion
Solid aluminum cross slider block ensures superior rigidity
Large 43.7mm (1.72") diameter, precision ground, stainless steel vertical pole
Anti-corrosion surfaces of stainless steel, anodized aluminum, plated steel and catalyzed epoxy
24" tall vertical pole standard, custom lengths available
27.75" long horizontal arm provides 22" of travel to support inspection of large samples
Heavy duty tilt and swivel mount for current and legacy stereo microscope models
Variety of base mounting systems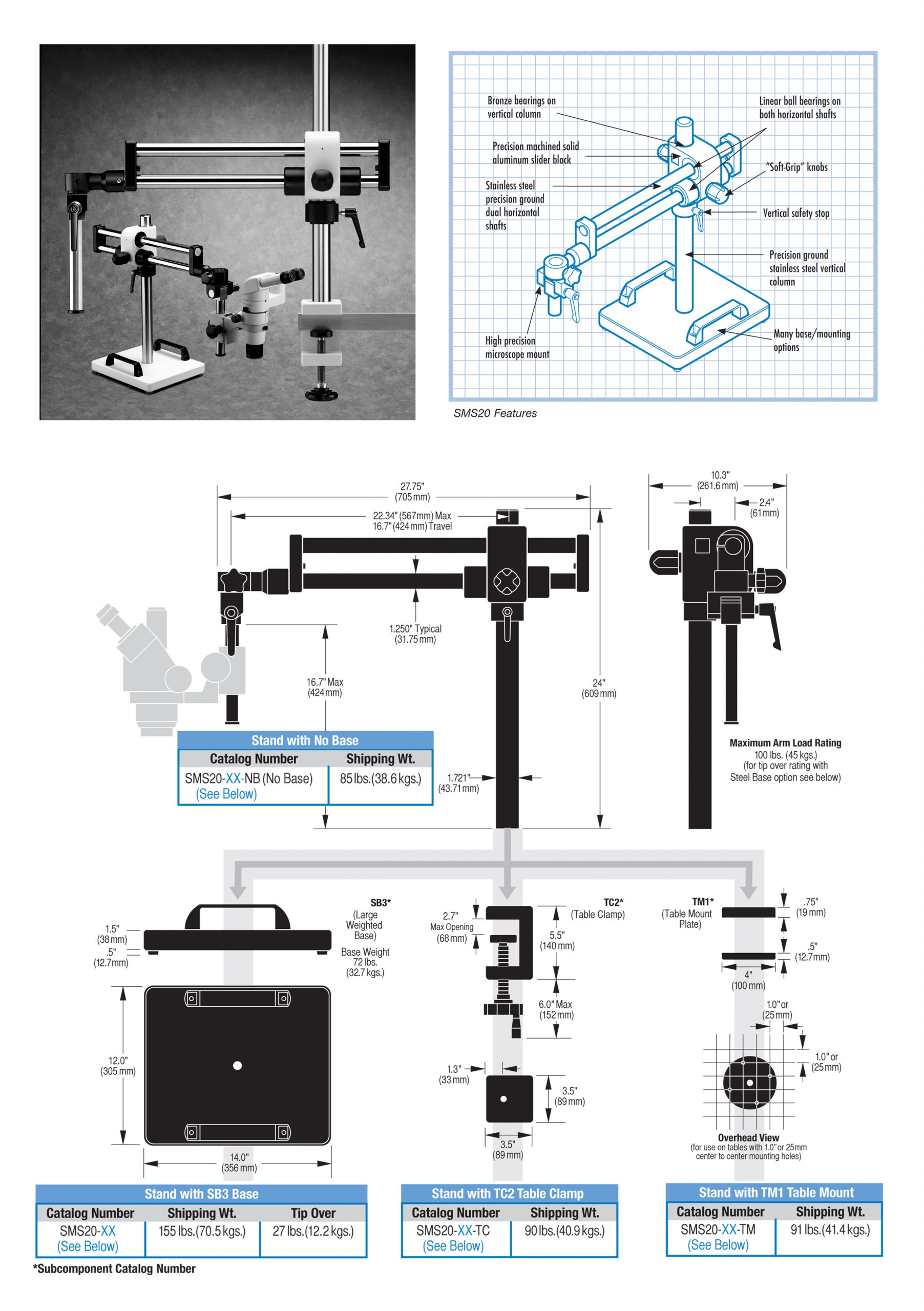 SMS20 Boom Stand Models
| Catalog Number | Description | Quotations |
| --- | --- | --- |
| SMS20-18 | SMS20 Boom Stand with 32mm Mount for Olympus SZ-STS Focus Mount with Weighted Base | Request a Quote |
| SMS20-18-NB | SMS20-18 Boom Stand with 32mm Mount for Olympus SZ-STS Focus Mount without Base | Request a Quote |
| SMS20-18-TC | SMS20 Boom Stand with 32mm Mount for Olympus SZ-STS Focus Mount and Table Clamp | Request a Quote |
| SMS20-18-TM | SMS20 Boom Stand with 32mm Mount for Olympus SZ-STS Focus Mount and Table Mount | Request a Quote |
| SMS20-30-TC | SMS20 Boom Stand with 32mm Mount for Olympus SZX2-RFA16 Focus Mount and Table Clamp | Request a Quote |
| SMS20-30-TM | SMS20 Boom Stand with 32mm Mount for Olympus SZX2-RFA16 Focus Mount and Table Mount | Request a Quote |
| SMS20-31 | SMS20 Boom Stand with 32mm Mount for Olympus SZX2-FO, SZX2-FOF, SZX2-FOFH, SZX2-AO2 Focus Mounts with Weighted Base | Request a Quote |
| SMS20-31-TC | SMS20 Boom Stand with 32mm Mount for Olympus SZX2-FO, SZX2-FOF, SZX2-FOFH, SZX2-AO2 Focus Mounts and Table Clamp | Request a Quote |
| SMS20-31-TM | SMS20 Boom Stand with 32mm Mount for Olympus SZX2-FO, SZX2-FOF, SZX2-FOFH, SZX2-AO2 Focus Mounts and Table Mount | Request a Quote |
| SMS20-19 | SMS20 Boom Stand with 32mm Mount for Nikon Stereos and Weighted Base | Request a Quote |
| SMS20-19-NB | SMS20-19 Boom Stand with 32mm Mount for Nikon Stereos without Base | Request a Quote |
| SMS20-19-TC | SMS20 Boom Stand with 32mm Mount for Nikon Stereos and Table Clamp | Request a Quote |
| SMS20-19-TM | SMS20 Boom Stand with 32mm Mount for Nikon Stereos and Table Mount | Request a Quote |
| SMS20-28 | SMS20 Boom Stand for Leica Stereos and Weighted Base | Request a Quote |
| SMS20-28-NB | SMS20-28 Boom Stand for Leica Stereos without Base | Request a Quote |
| SMS20-28-TC | SMS20 Boom Stand for Leica Stereos and Table Clamp | Request a Quote |
| SMS20-28-TM | SMS20 Boom Stand for Leica Stereos and Table Mount | Request a Quote |
| SMS20-6 | SMS20 Boom Stand for Zeiss Stereos and Weighted Base | Request a Quote |
| SMS20-6-NB | SMS20-6 Boom Stand for Zeiss Stereos without Base | Request a Quote |
| SMS20-6-TC | SMS20 Boom Stand for Zeiss Stereos and Table Clamp | Request a Quote |
| SMS20-6-TM | SMS20 Boom Stand for Zeiss Stereos and Table Mount | Request a Quote |