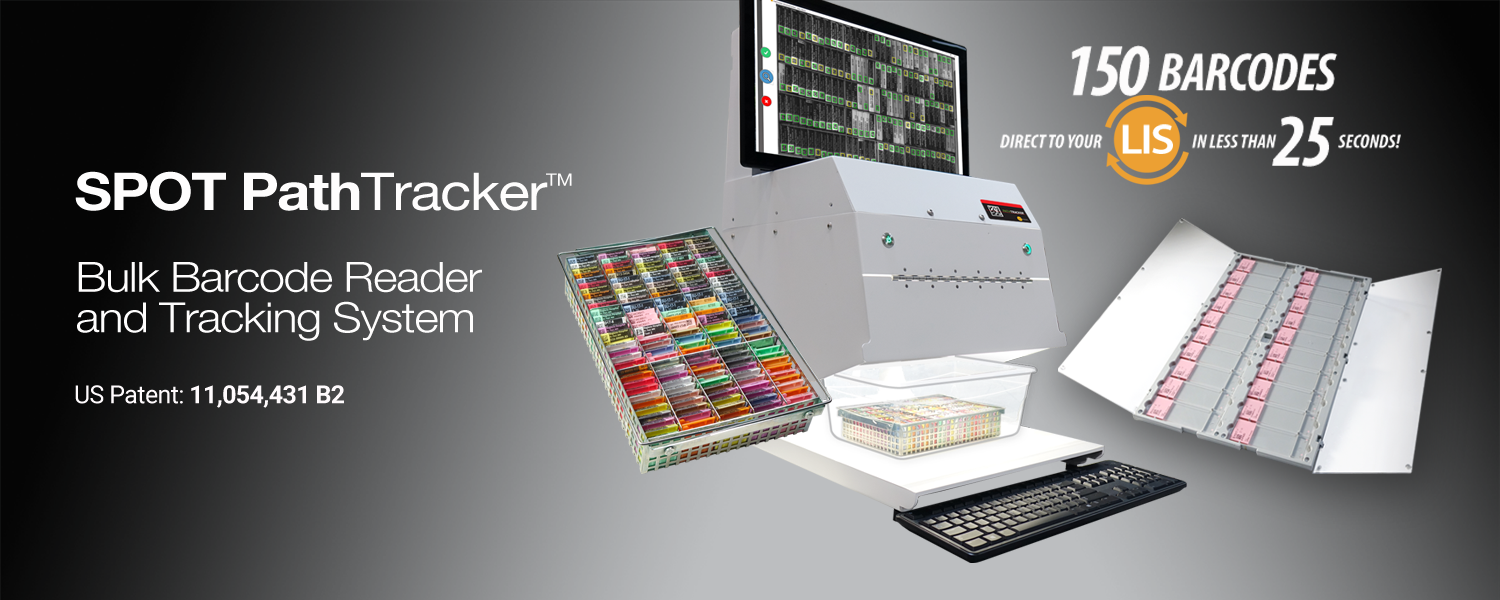 Bulk Barcode Scanning
PathTracker** speeds the scanning of bulk sample containers enabling lab personnel to have a higher level of tracking assurance without the added labor expense.
**- US Patent: US 11,054,431 B2 with International Patents Pending
Hand Scanning is Slow, Error Prone Work...
Lost samples throw your lab into chaos, pulling managers and staff off their time sensitive work, distracting the team from their scheduled activities, endangering the patients you serve and calling into question the lab's accreditation. That is why every laboratory would like to track samples from start to finish.
While barcode scanning has helped sample tracking greatly, it is problematic during bulk transfers of cassettes and slides. The lab team typically does not have enough time (or budgeted personnel) for this level of tracking, so bulk transfers are done on a wing and a prayer. The results are predictable- missing and lost cassettes that send the histology team into another hide and go seek fire-drill of digging through week-old garbage, moving tables, hoods and processors while crawling on hands and knees to see below immovable instruments and then trying to get to sleep wondering where that last lost cassette ended up.
Working harder or longer does not solve this problem, pathology labs need a purpose built solution that is fast, accurate and provides sample tracking from start to finish.
PathTracker™
A Laboratory Solution for Bulk Barcode Scanning
SPOT Imaging specialists became aware of the bulk sample transfer problem through our close working relationship with the pathology labs we support. We then applied our 55+ years of imaging expertise and instrument design to develop the PathTracker** Bulk Barcode Scanner.
PathTracker Solves the Bulk Barcode Scanning
Problem with:
Ultra-fast bulk scans

Easy-to-use graphical user interface

Visual confirmation of the scanned samples

Automatic uploads of the results to your LIS

Notification of missing or late samples

Dashboard tracking of the sample workflow

Sample search reporting for tracking single samples or whole batches
PathTracker puts one more Histology process under control.
(**-US Patent: US 11,054,431 B2 with International Patents Pending)

SPOT solutions start with a foundational goal to reduce lab time and pay for themselves in less than a year, making your lab more efficient and allowing your team to stay focused.
Contact SPOT Imaging, get a quote and see how affordable PathSuite can be for your institution.
Make Bulk Scanning Easy
PathTracker performs it's scanning by imaging your bulk sample container, scanning the field for barcodes, and recording the barcodes to the PathTracker and LIS database archives.
Critically, PathTracker's visual interfaces shows you an image of the scanned samples with all the scanned barcodes marked. Unscanned cassettes are easily identified and quickly addressed using PathTracker's correction tools ensuring your production run continues with its processing. During reconciliation scans, immediate notification is provided for missing samples ensuring issues are addressed in timely fashion.
Once a scan is approved, PathTracker transfers the scan data to the PathTracker database as well as to your LIS barcode tracking system.
PathTracker is Fast, Easy and Accurate!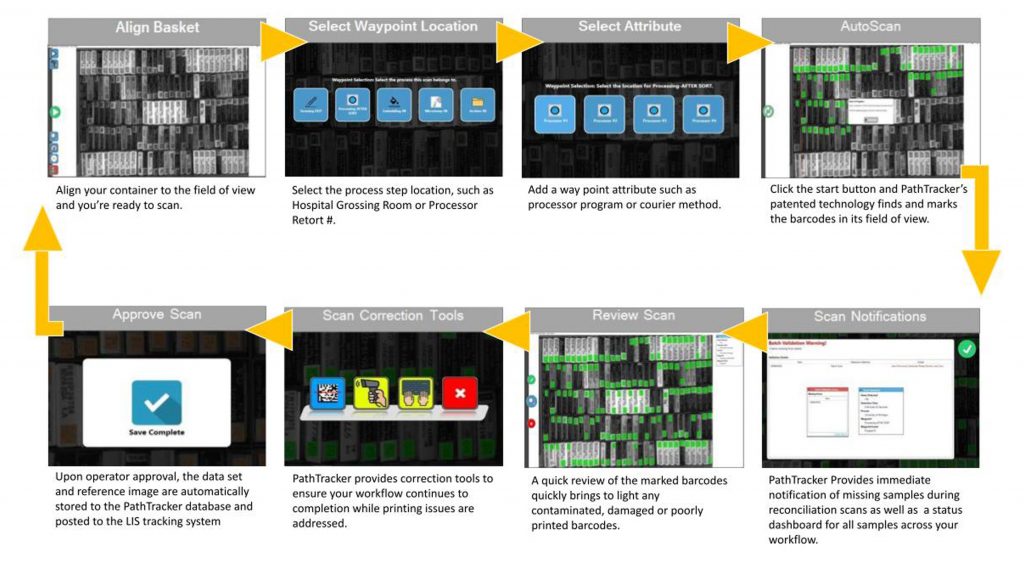 Active Management of Your Workflow
PathTracker's moves beyond a simple barcode scanner with its workflow modeler, scanning database and workflow dashboard...
Workflow Modeler
The PathTracker Workflow Modeler maps your institution's Histology processing steps from sample container printing at outlying hospitals through "in lab" tasks and ending with the sample filing room. Once mapped, any step can be easily activated as a tracking waypoint with the click of a checkbox and items added to record attributes such as operator, courier used, or processor program run expanding the data recorded as needed.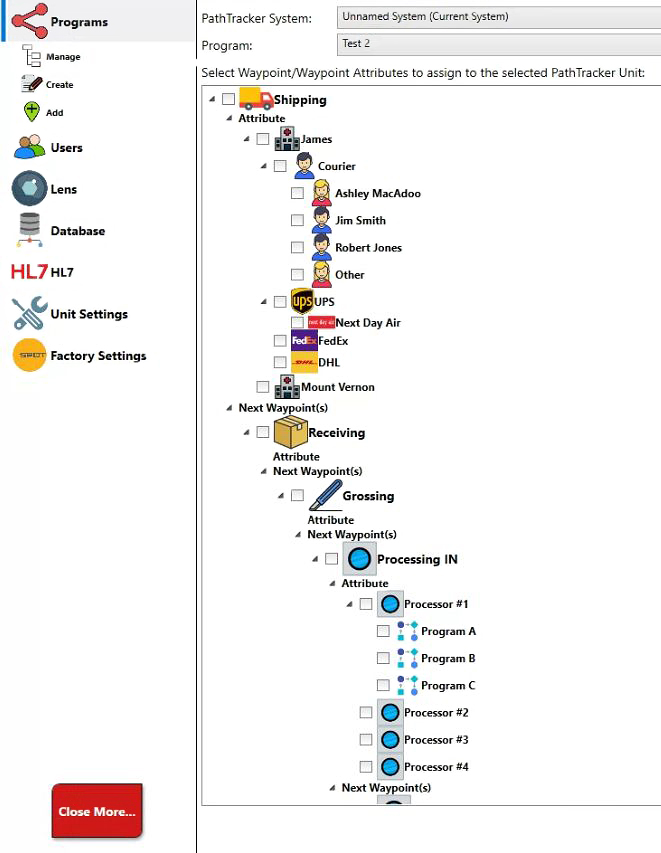 Tracking Database
The Tracking Database records each sample scan as well as an image of the actual scan providing PathTracker with the power to actively monitor whether samples are missing or late to their next process step. If a sample is detected to be missing or late, a electronic notification is provided to the operators and managers. In addition to recording sample scans to its own database, PathTracker can be configured to post its results automatically to your LIS tracking module keeping it updated also.


Sample Tracking Management Tools
PathTracker includes a Workflow Dashboard and Report Generator. These tools allow operators to monitor the overall workflow as well as track individual samples as necessary. The report generator tools enable:
A visual overview of the sample load across the workflow

Searches for the current status as well as tracking history of individual samples

Data drill down on a particular waypoint or cohort of samples for workload analysis

Reporting based on search criteria such as scan date range or waypoints traversed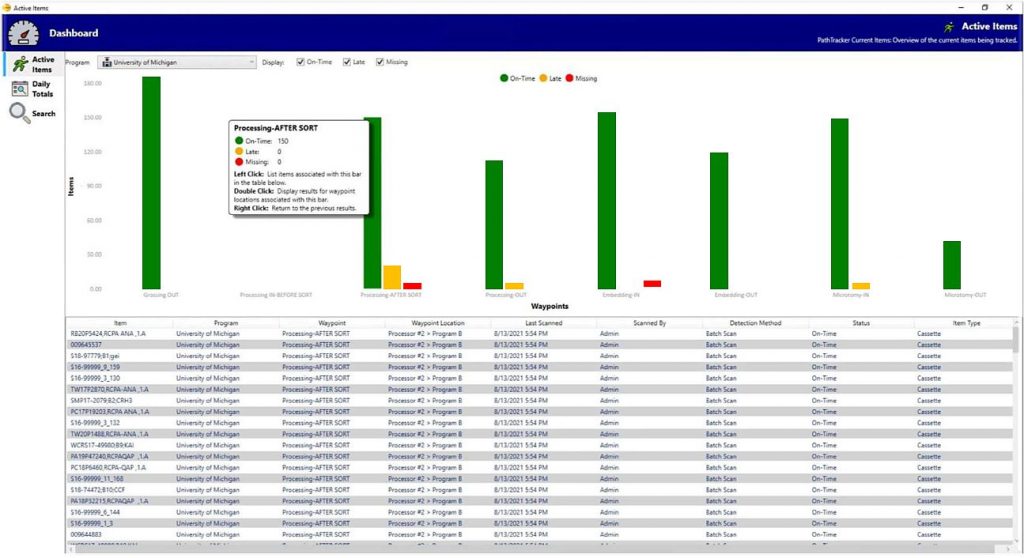 PathTracker is a great compliment for your LIS tracking system providing details otherwise unavailable.